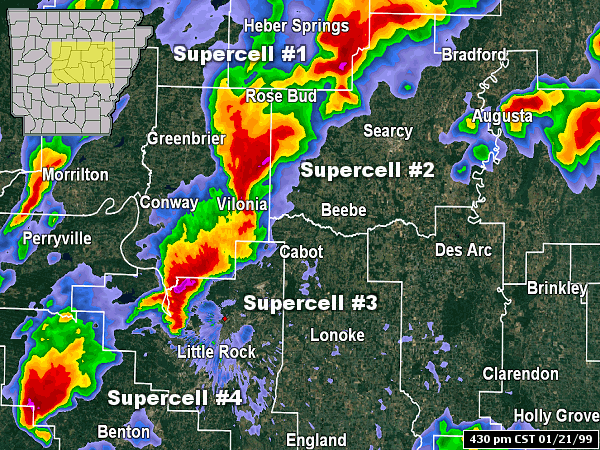 In their 5pm and 6pm forecasts, Little Rock TV station meteorologists had warned of the potential for severe weather on the evening of January 21, 1999.
But no one seemed prepared for what happened.
A tornado cut through a huge swath of Little Rock stretching from the southwest portion of the city up through the Quapaw Quarter and beyond.  At least four people died in Pulaski County and over 150 houses were destroyed.
A Harvest Foods collapsed trapping people inside the store as storms pummeled survivors with rain and wind.  Stories were ripped off buildings. Sides of houses were peeled back.  Cars and trees were tossed about as if they were made of papier mache.
While not short-changing all of the devastation throughout the city – and there was a great deal – there were several cultural institutions and historic sites which were hit by this system.
A portion of the roof of Daisy Bates' home was ripped off. Some of her books and papers were sucked up by the wind and scattered throughout the storm's path.
The Governor's Mansion sustained damage in addition to losing power and phones.
The original Fire Station 2 in MacArthur Park, then still serving as a museum storage facility, lost a portion of its roof and sustained water damage
The Arsenal Building, in the process of being prepared to become the MacArthur Museum of Arkansas Military History, lost a portion of its roof.  The storm's impact also set off the sprinkler system in the building causing flooding throughout the interior of the building.
The Arkansas Arts Center sustained minor damage. The museum was hosting a reception that night for the opening of an exhibit. Many trees in MacArthur Park fell that evening, including several on cars of patrons present for the party.
It would take months and years for the areas hit by this storm to be rebuilt and recover.
The Museum of Discovery – which would have been impacted by the tornado if it had not relocated to the River Market District two years earlier – has an exhibit which allows persons to relive this night.  Tornado Alley Theater provides a riveting seven-minute experience for museum visitors as they relive the tornado that devastated the Governor's Mansion district area of downtown Little Rock in January 1999. Hear the stories of people who survived the storm and see TV footage of the event as broadcast on THV 11 that fateful evening.