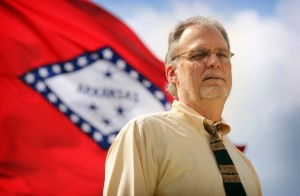 Today (December 4) at noon, the Central Arkansas Library System's Butler Center's monthly Legacies & Lunch program will feature Dr. Ben Johnson discussing Arkansas in Modern America.
Ben Johnson will discuss the topics and themes in his book Arkansas in Modern America Since 1930, published in August by the University of Arkansas Press. This second edition is a comprehensive revision of and elaboration on the first edition, which was published in 2000. Johnson incorporates recent scholarship to extend the analysis of economic, social, and cultural developments in Arkansas into the present day.
Ben Johnson is the John G. Ragsdale, Jr. and Dora J. Ragsdale Professor of Arkansas Studies at Southern Arkansas University in Magnolia. In addition to Arkansas in Modern America, he has published Fierce Solitude: A Life of John Gould Fletcher and John Barleycorn Must Die: The War Against Drink in Arkansas, each published by the University of Arkansas Press.
Legacies & Lunch is a free monthly program of CALS Butler Center for Arkansas Studies about Arkansas related topics. Program are generally held from noon to 1 pm on the first Wednesday of the month in the Main Library's Darragh Center. Attendees are invited to bring a sack lunch; drinks and dessert are provided. A library parking discount is available upon request. For more information, or to share ideas for future programs, please contact Heather Zbinden, 320-5744, hzbinden@cals.org.