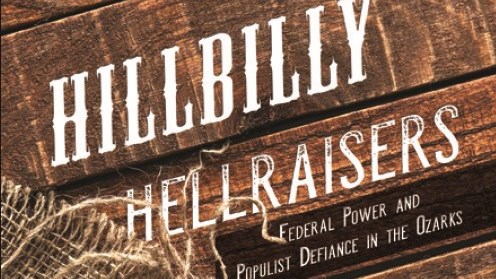 The first Pen to Podium of 2019 is Dr. Blake Perkins discussing Hillbilly Hellraisers at 6:00 p.m.
This program is sponsored by the Arkansas State Archives, a division of the Department of Arkansas Heritage.  It will be held at the DAH headquarters located at 1100 North Street.
The lecture is free and part of the 2019 Historical Writers' Lecture Series.  The Friends of the Arkansas State Archives plan to host a reception with refreshments 30 minutes before the lecture.
Perkins' book, Hillbilly Hellraisers: Federal Power and Populist Defiance in the Ozarks, has drawn praise for its insightful look into how rural people in the Ozarks reacted to and resisted federalism in the 19th and 20th centuries.
The Ozarks includes parts of Arkansas and Missouri, where people have a reputation for anti-government sentiment. Perkins' book asks what role heritage plays in perpetuating that attitude and focuses on real people's experiences. The book traces social and political changes from the Populist revolt of the 1880s and 1890s to the modern-day Tea Party protests and the popularity of President Donald Trump.
"I think in many ways the Ozarks is an excellent microcosm of rural America in general," Perkins said.
Perkins was born in the Ozarks and grew up on a fifth-generation farm near the southeastern Ozarks in western Lawrence and Sharp counties. He became interested in his family roots and history in elementary school. He has since become an assistant professor and chair of the History Department at Williams Baptist University in Walnut Ridge. He earned a bachelor's degree from Lyon College, a master's degree from Missouri State University and a doctoral degree from West Virginia University.
Perkins said the history behind local politics and its evolution is fascinating. "As I watched anti-Obama, anti-Washington politics surge in Arkansas between 2008 and 2016, I've been fascinated to investigate and learn more about rural political and social history," he said.