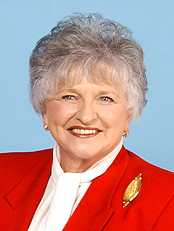 Jimmie Lou Fisher served as a Constitutional officer in Arkansas longer than any other woman in the state's history (twenty-four years).  Her twenty-two years as Treasurer is also the longest any person has served in that post. (And unless the term limits rules for Constitutional officers are changed, it is a record that is likely to stand.)
Born in Delight, she grew up in Paragould and graduated from high school in Vilonia. (Her father was a coach and school administrator who moved the family around as he took new jobs.)  She attended what is now Arkansas State University.
Interested in politics from an early age, in 1970, she was elected Greene County Treasurer. She held that position until 1979 when she was appointed by Governor Bill Clinton to be the Auditor of Arkansas. (He had appointed longtime Auditor Jimmie "Red" Jones to be Adjutant General of the Arkansas National Guard.)
Gov. Clinton had hardly picked her from obscurity.  She had been active in his successful race for governor in 1978. Previously she was vice chair of the Democratic State Committee and a member of the Democratic National Committee from 1976 to 1978 and a member of the Credentials Committee of the National Convention in 1976.
Since Fisher had been appointed, she could not run to succeed herself.  When longtime Treasurer Nancy Hall announced she would not seek re-election, Fisher jumped into that race. She easily won the race and was re-elected each time until term limits took effect in 2002.
After announcing her retirement from politics (where she had been respected by both Democrats and Republicans for her handling of state finances), Fisher was pressed into service to be the Democratic Party standard bearer in the race for governor against incumbent Mike Huckabee.
Though not the first woman to seek a major party's nomination for governor, she was the first to be a major party nominee.  She ran a close election, but was defeated by Huckabee.
In 2013, she moved back to Greene County to be closer to some family members there.